Mosquito Control Duluth, GA
If you live in or around Duluth and you have a mosquito control issue, you've come to the right place! Our team of highly trained and licensed professionals have the solution you need. Here at North Fulton Pest Solutions, we know how important it is to ensure mosquitoes are no longer an issue.
Mosquitoes can pose many hazards; they can:
Prevent you from enjoying time in your yard or outdoor areas
Potentially expose you and your family to mosquito-borne diseases like:

West Nile virus
Zika virus
Encephalitis
Malaria
Dengue fever
And others

Endanger your pet's health (mosquitoes spread heartworms among other serious diseases that can put your pet's health at risk!)
We offer a mosquito control solution to help reduce mosquito populations and thus your exposure to these potential hazards associated with mosquitoes, and we do it all in a responsible manner. Our team is composed of Registered Technicians, Structural Pest Control Certified Operators, and Certified Commercial Pesticide Applicators in Commercial Mosquito Control. North Fulton Pest Solutions is also home to an Associate Certified Entomologist and the United States' second and Georgia's very first Public Health Entomology Certificate Holder. When you choose us to provide your mosquito control, you can rest assured our team has not only the experience but also the knowledge and expertise to responsibly and effectively address your mosquito and other pest related concerns.
Our Multi-faceted Approach
Our mosquito control solution uses a multi-faceted approach. This helps to:
Reduce the adult mosquito population – We do this by using an adulticide, which immediately goes to work eliminating mature biting mosquitoes! We supplement the adulticide application with a synergist, which helps to make adult mosquitoes more susceptible to the active ingredient in the adulticide.
Prevent immature mosquitoes from becoming adults – To achieve this end, we employ a larvicide, which specifically targets mosquito larva in breeding sites and prevents them from ever maturing into adult biting mosquitoes (greatly reducing future populations)!
Break the successful reproduction and developmental life cycle of mosquitoes – Our insect growth regulators (or IGRs) do just that! IGRs prevent successful reproduction and "contaminate" mosquito breeding sites, which again greatly reduces future mosquito populations!
How You Can Reduce Mosquito Populations Today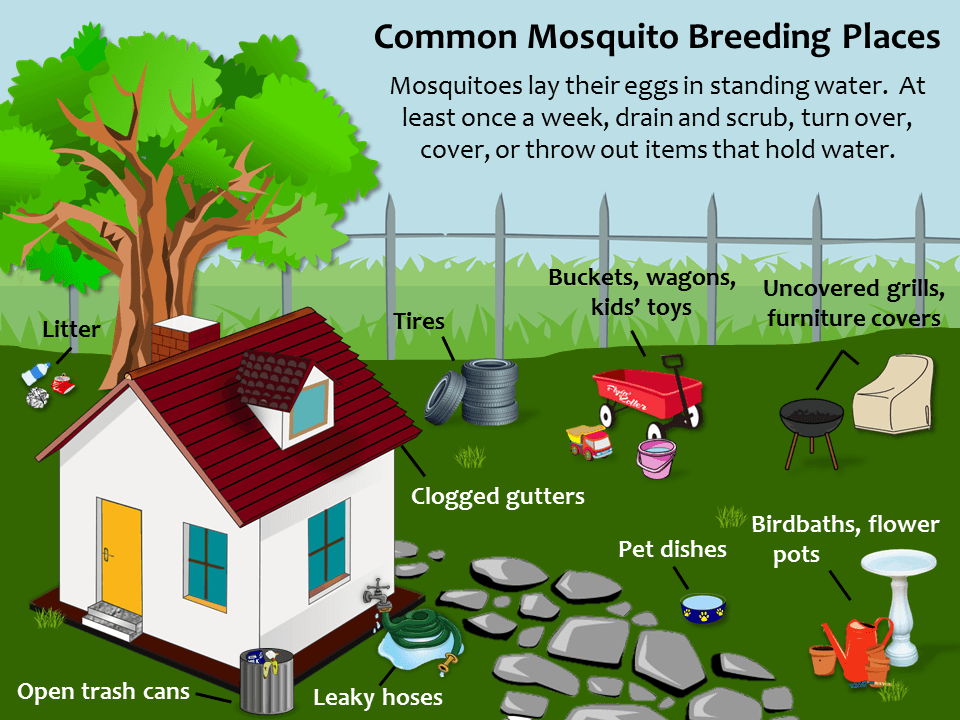 The tips below are easy steps you can take now to help reduce the mosquito population around your home, yard, or place of business.
Remove Standing Water
Remove standing water in your yard as this is where mosquitoes like to lay eggs. Check for any standing water after it has rained and every few days. Turn buckets, pots, and any other containers that you're not using upside down.
When you remove standing water in your yard, you are helping us to keep the mosquito population down.
Unclog Your Gutters
Clogged gutters tend to be full of standing water. If you haven't cleaned your gutters out in a while, please do so, or… we can provide you with gutter covers if you don't already have some form of gutter protection in place! Contact us today for a free estimate. Our gutter covers can help ensure that your gutters are clean and free of debris and leaves, thus reducing pest harborage areas and potential mosquito breeding sites.
Wear the Right Clothing
When you go outside for prolonged periods of time, consider your clothing choices. Light-colored clothing along with long sleeves can help to keep mosquitoes and their itchy bites at bay. While you might be tempted to wear shorts, long pants may be a better choice. While wearing the right clothing will not get rid of mosquitoes, it will help to prevent you from being bitten.
Consider Using Insect Repellents
To further protect yourself from mosquitoes, consider using mosquito repellent. When using a mosquito or insect repellent, always follow the manufacturer's label directions for best results.
Inform Us of Increased Activity
If you notice an increased level of mosquito activity please inform us as soon as you can. The quicker we can get to work, the sooner we can deal with the mosquitoes. Contact us today if you have increased activity.
Trust Us to Help You
Here at North Fulton Pest Solutions, we are proud to have worked in the area for more than 50 years. We're a family-operated and locally-owned business. We can provide you with a range of pest control services far superior to those provided by many other pest control companies.
Guaranteed Service
We want you to be completely satisfied with the service we provide. That's why we go as far as to offer our customers a guarantee on all of our annual mosquito control programs. Enjoy peace of mind when you choose North Fulton Pest Solutions to provide your mosquito control!
Contact Us Today For A Free Mosquito Control Estimate
If you have a mosquito control issue or you think you might have one, contact us today. If you live in or around Duluth, we can help! With more than 50 years of experience in the pest control industry, we are a team of trusted professionals, and we're ready to assist you! Call or text us today for your free mosquito control estimate, and let us help you make your mosquito problem a thing of the past… 770-475-7419!