Wildlife Removal Cumming, GA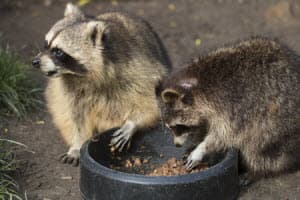 There are many different types of wild animals in Cumming. Opossums, skunks, raccoons, bats, rodents, and squirrels are just a few that you may encounter at the park or when you are out and about. When they find their way into your home or yard, though, they can become a problem. At one time, wild animals had their habitats and humans had theirs. However, humans have slowly encroached upon the homes of wild animals, and the only place they have to go is often where humans dwell. Professional wildlife removal in Cumming, GA can help when the wildlife gets a little too close for comfort. There is no denying that wild animals are beautiful. Some probably look pretty cuddly and cute, but make no mistake, that cute squirrel can do thousands of dollars' worth of damage if it gets in your attic. That adorable raccoon can wreak havoc in your crawlspace. Once an animal gets into your home, it can chew through walls, chew wires, tear up cardboard packing crates, and introduce a host of insects including fleas, mites, and ticks. If a child or pet encounter the animal in your home or yard, they could be seriously injured. The laws that govern nuisance wildlife removal in Cumming, GA are quite strict. If you encounter wild animals in your home or on your property, you should not try to get rid of them on your own. Doing so could get you into legal trouble, not to mention you could get hurt. Your best bet is to call a professional who can remove nuisance wildlife with the least amount of risk possible. A professional can also show you how to keep animals out of your home for good.
Reliable Cumming, GA Wildlife Removal
Unwanted wild animals in your home can be a health and safety risk, not to mention it can decrease your property value. Don't try to remove nuisance wildlife on your own, call North Fulton Pest Solutions for prompt, professional wildlife removal. Our licensed, trained technicians will comply with Georgia's wildlife removal laws with an emphasis on safety and humane extraction. Call our office to schedule an inspection of your property and home to get rid of nuisance wildlife and learn how to keep them away.