Wildlife Removal Johns Creek, Georgia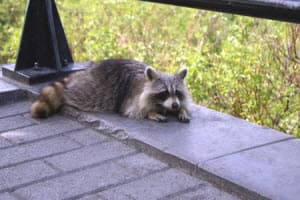 Invasive wildlife on your Johns Creek, Georgia property can be as dangerous as it is annoying. Wildlife such as rats, mice, squirrels, raccoons, and other rodents and varmints can not only be hostile and attack you, your family, or your coworkers, but they can also cause significant structural damage to your residential or commercial property leaving you with a number of professional repair bills. Additionally, the presence of these harmful critters can be enough to violate health codes and get your establishment condemned and even shut down!
Fear not, North Fulton Pest Solutions is here to help.
Our wonderful group of highly-qualified professionals here at North Fulton Pest Solutions has been dedicated to serving the Johns Creek, Georgia area for over 50 years! With this level of experience and a range of certificates, licenses, certifications, and high-level academic achievements in Entomology, our team provides the full-service wildlife removal you're looking for that will not only do away with the wildlife on your property but administer measures to prevent them from returning.
We believe that with our background and credentials in nuisance wildlife control and experience in dealing with many wildlife removal challenges over the 50+ years we've been around that our level of expertise, workmanship, and customer service is far superior to other pest control and wildlife control companies in and around Johns Creek, Georgia.
Wildlife Removal In The Johns Creek Area
For those who are dealing with pest issues in their homes or places of business, our expert wildlife removal service is required. If they enter your property, these creatures may be troublesome, annoying, or even dangerous. Additionally, they can transmit a lot of bacteria and diseases, which can seriously harm your property and general health. For these reasons, it's important to have our team of wildlife removal experts over right away.
Just like in many other regions in Georgia, the Johns Creek area is no stranger to wildlife. Aside from a large number of white-tailed deer, residents of the Johns Creek area will likely encounter raccoons, squirrels, opossums, rats, mice, and other creatures that can invade and damage your residential and/or commercial property. Whether it's raccoons getting into your trash, bats roosting and leaving droppings, or rats chewing, you'll need the skills of an experienced professional to get rid of them for good. This is where our team at North Fulton Pest Solutions comes in.
We are the elite option for both pest control and wildlife removal. Our team is passionate when it comes to helping remove bothersome wildlife from your Johns Creek property and strives to complete the task in the most efficient and effective way possible. If you are dealing with pesky squirrels, raccoons, problems with bats, rats, or possums on your property in the Johns Creek, Georgia area then you have come to the right place. Our company offers a wide range of professional services for our customers and it is our goal to provide some of the highest levels of customer service and quality of work in Georgia.
Why Choose North Fulton Pest Solutions

You are hiring some of the best, most skilled, and most knowledgeable wildlife removal specialists in Johns Creek when you hire North Fulton Pest Solutions to handle an animal infestation on your home or business property. Controlling a pest infestation or a wildlife invasion has evolved into a strategic procedure as a result of the careful information we've gathered over the years of first-hand experience and deliberate study.
Our knowledgeable technicians will carefully find and examine animal trails as well as the point of entry and exit for the particular species of wildlife. Our staff will use its extensive wildlife knowledge and years of experience dealing with a wide variety of wildlife to decide the best suitable course of control or removal after the kind and species of the pest have been identified.
With a background in Entomology, nuisance wildlife control, and multiple high-level academic achievements and certifications, the leaders of North Fulton Pest Solutions are committed to being some of the best in the industry. Additionally, with over 50 years in business, North Fulton Pest Solutions looks forward to the future of pest solutions by staying up to date with and contributing to some of the newest emerging technology, equipment, tools, techniques, and strategies to perform effective treatments and removal.
It's not surprising that our team has emerged as a top option for both pest control remedies and animal removal given the skills and knowledge we possess in the industry. Our strong reputation in the residential and commercial neighborhoods of Johns Creek, Georgia is largely due to our extraordinary skill in the field as well as in the level of customer service provided.
If you would like to learn more about what makes North Fulton Pest Solutions one of the top choices for wildlife removal in Johns Creek and other cities around Georgia, feel free to contact our professionals today; call, text, or email us now!
Contact Us Today For A Free Wildlife Removal Estimate
At North Fulton Pest Solutions, we have a fantastic team of wildlife removal experts ready to offer you tremendous relief from your present wildlife invasion crisis. In and around Johns Creek, Georgia, we can offer some of the most efficient and humane removal techniques, whether the conflict is at your house or at your place of business.
If you are suffering from some pesky wildlife in your Johns Creek home or place of business, please don't hesitate to pick up the phone and give our friendly crew a call right now. We are happy to put our skills and knowledge to work for you to deliver the solutions you need as well as give you a wise and cost-free estimate for wildlife removal.