Wildlife Removal Dunwoody, GA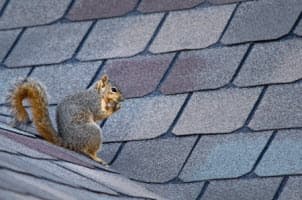 There is no shortage of wildlife in Dunwoody, GA, and while it is a real treat to see them in the woods or in a park, it isn't so great when they get inside your home. The development of cities and neighborhoods has pushed back the natural habitat for raccoons, opossums, bats, skunks, rodents, and squirrels as well as many other wild animals, causing them to seek shelter in human dwellings. Hiring a Dunwoody wildlife removal professional can get the wild animals out of your home and prevent them from returning.
While many people think that raccoons and squirrels are cute and their presence around houses is novel, there is nothing attractive about what these animals can do to a home. From chewing wires to destroying stored items, they can wreak havoc in your home. They can also be dangerous. If a child or pet encounters an animal in your home, they could be bitten or injured. What's more, wild animals can also bring other household pests like ticks, fleas, and mites into your home. Some of these pests are known to cause certain diseases like Lyme disease. Basically, wild animals belong outside.
Georgia has stringent laws regarding wildlife removal; so, homeowners are discouraged from trying to do it themselves. There is a very real risk of injury, and if it is not carried out according to the law, they could find themselves in some deep legal waters. A professional wildlife removal technician is trained in getting rid of wildlife in a way that is humane while minimizing any risks to the home, the humans in the home, and pets. They can also provide prevention tips to help you keep the wildlife outside where it belongs.
Dependable Dunwoody, GA Wildlife Removal Providers
North Fulton Pest Solutions is your one stop shop for GA wildlife removal in Dunwoody. Our professional technicians are trained and licensed in nuisance wildlife removal as indicated under Georgia law. Wild animals in your home can decrease your property value and are a health and safety risk. Don't try to remove the animals on your own, call North Fulton Pest Solutions today and let us take care of your wildlife problem. We'll help you get rid of the animals and give you guidance on keeping them away.