Protect your property and your health by calling North Fulton Pest Solutions – the best pest control Milton, Georgia, has to offer.
Comprehensive Pest Control
Georgia property owners have a struggle on their hands when it comes to keeping pests at bay. This state has more than its fair share of insects, and often our winters aren't harsh enough to kill off all existing pest populations. We have more species of ants, mosquitoes, termites, spiders and other bugs than the majority of the nation, making infestations tricky to treat. Thankfully, as area experts, we have the training and the tools needed to keep these pests under control.
Pest Control for Milton, Georgia Properties
Here are some of the common pests we help protect our customers from:
Cockroaches
Ants
Carpenter ants
Flying, stinging insects
Mosquitoes
Spiders
Fast-Acting Ant Control
Ants can be almost as difficult to get rid of as termites. DIY methods rarely work, as treatments must be tailored to the ant species and the areas of infestation. Consumer products are even worse and generally are a waste of both time and money.
Trust our expertise when dealing with these persistent insects. We use high-quality applications capable of getting to the heart of the colony and any satellite colonies established on your property.
Termite Control Services in Milton, GA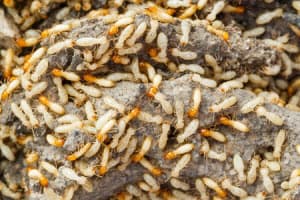 A termite infestation is not a pleasant thought for any homeowner, but in the Milton area termites are an unfortunate reality. When you are seeking Termite Control in Milton, GA you can rest assured that North Fulton Pest Solutions will get the job done right using some of the most technologically advanced products available. What's more, our Lifetime Renewable Guarantees and Damage Repair Guarantees for qualifying homes provide peace of mind with regard to future termite infestations and costly termite damages, which are rarely covered by homeowner's insurance!
Our Termite Control Products
We use two of the top termite control products on the market today. They are proven to deliver effective, lasting termite protection and treatment.
Sentricon_®_ Termite Colony Elimination System with Always Active™ Technology. It protects the White House and millions of other homes, and now it can protect yours too! This green alternative system destroys the colony as well as individual termites, leaving your home termite free. It's the only termite baiting system on the market today that features Recruit® HD termite bait in every single station from the very first day of installation providing continuous termite protection 24 hours a day, 7 days a week, 365 days a year!
Termidor® Termite Treatment. This non-repellant liquid residual termiticide features a unique "Transfer Effect™" that not only destroys termites who ingest or come into contact with the product but also other secondary termites with whom they come into contact with as well! Think domino effect leading to total eradication and colony control.
Termite Inspection
Whether we're performing a termite treatment featuring Termidor, installing a Sentricon System with Always Active Technology, implementing a plan featuring both Sentricon and Termidor, or you're in need of some other termite service, the first step is a termite inspection. We will conduct a complete visual inspection of your home and property, and recommend the best course of action to keep your home termite free and protected. We routinely suggest the installation of the Sentricon System with Always Active Technology and the use of Termidor in areas conducive to termite infestation, giving the you the best of both worlds and the ultimate in termite protection!
Termite Clearance Letter
Whether you're selling a home or buying one, a Milton termite inspection and an Official Georgia Wood Infestation Report (commonly referred to as a termite clearance letter) is vital to ensure protection of both the buyer and the seller. Real estate agents and homeowners can submit their requests via our convenient form that is located on our website.
For professional, thorough termite control in Milton, GA, call North Fulton Pest Solutions. We will tailor our approach to meet your specific needs to provide you with the best available termite protection. Whether you think you have termites, know you do, or just want the peace of mind that comes with termite protection, call on us today.
Termites will quickly destroy the best-maintained homes, and they're next-to-impossible to defeat on your own. Prevent damage by putting methods in place now to eradicate any infestation the second bugs move in. We utilize both Termidor® and Sentricon® with Always Active™ — the two leading names in termite treatment currently on the market.
We also understand what pest control services Milton homes require. National companies may settle for barebones service plans, but ultimately these leave your property vulnerable.
In addition, we provide Milton property owners with:
Pre-construction termite treatments
Thorough termite inspections
Termite clearance letters with fast turnaround!
Wildlife Removal Services
Along with preventing insects from spreading disease and damage throughout your home, our Georgia Department of Natural Resources licensed trappers possess the knowledge and expertise to responsibly remove and control wildlife that's taken up residence in your home. This includes both the removal and exclusion of wild animals. From patching holes to sealing roof lines, we'll save you time, money, and stress by preventing animals from getting inside to begin with.
We have experience dealing with:
Bats
Squirrels
Raccoons
Mice and rats
Birds, and other nuisance wildlife
Call or Text Today to Experience the North Fulton Pest Solutions Difference
Put your faith in a local, family-owned business to keep your property free from bugs and other pests. For 50 years and over three generations, we've worked diligently to provide pest control to Milton residents. Call or text 770-475-7419 for a free quote for pest control or wildlife removal services or contact us online today.