Termite Treatment in Alpharetta, GA
In the beautiful suburb of Alpharetta, GA, homeowners pride themselves on maintaining their homes to the highest standards. While this thriving community continues to be a beacon of growth and development, it is not immune to the various types of pests that can threaten the integrity of homes and commercial establishments. North Fulton Pest Solutions has been at the forefront of providing top-notch pest control services, including specialized termite treatments to the Alpharetta community, ensuring that homes and businesses remain protected from pest invasions.
Importance of Termite Control in Alpharetta, GA
Alpharetta, GA is known for its picturesque surroundings, but just like any other place, it has its share of pest issues, with termites being one of the most prevalent. These persistent pests are capable of causing extensive damage to structures, often going undetected until it's too late.
A termite treatment is not just a protective measure; it's a necessary action to preserve the structural integrity of your home. At North Fulton Pest Solutions, we have crafted a termite control strategy that not only addresses the current infestation but also helps prevent future occurrences.
The Economic Impact of Termite Infestations
The financial burden that comes with termite infestations can be quite hefty. In the United States, the cost associated with termite control and property repairs is staggering, running into billions of dollars annually. Alpharetta is no exception, and as a homeowner or business proprietor, the last thing you want is to incur substantial expenses due to a lack of preventive measures.
North Fulton Pest Solutions stands as your dependable partner in helping to prevent these costs. With over 50 years of experience in the industry, we understand the economic implications of termite infestations and have devised treatments that are both efficient and cost-effective.
The North Fulton Difference
Environmentally Responsible Pest Control
In an era where environmental conservation is paramount, North Fulton Pest Solutions takes pride in being an environmentally responsible pest control service provider. Our strategies are formulated with a keen consideration of their impact on the environment, ensuring that we maintain the delicate balance of our ecosystem while providing effective pest control solutions.
A Legacy of Excellence: Over 50 Years in Business
Founded in 1970, North Fulton Pest Solutions has built a formidable reputation as a leading pest control service provider in Alpharetta and its surroundings. Our longstanding presence in the industry is a testament to our commitment to quality and excellence.
Over 1,000 Positive Reviews on Google
Our track record speaks for itself, with over 1,000 positive reviews on Google reflecting our clients' satisfaction with our services. Our professional approach to pest control has not only earned us a solid reputation but also the trust and confidence of homeowners and businesses in Alpharetta.
Prompt, Professional Service
When it comes to pest control, time is of the essence. At North Fulton Pest Solutions, we prioritize promptness and professionalism in our service delivery. Our team is equipped to respond swiftly to your calls, ensuring that your pest control needs are addressed in a timely manner.
Certified, Licensed, and Insured
Our team is comprised of certified, licensed, and insured professionals who are well-trained to handle various pest control challenges. Our certification is a guarantee that we adhere to the highest standards of service, giving you peace of mind knowing that you are working with a reputable company.
Free Pest Control Estimates and Phone Quotes
To ensure transparency and convenience, we offer free pest control estimates and phone quotes in many cases. We believe in providing our clients with all the necessary information to make informed decisions regarding pest control services.
Local, Family-Owned Business
North Fulton Pest Solutions is not just a business; it's a family. As a local, family-owned establishment, we understand the unique challenges faced by residents in Alpharetta. Our close-knit team works hand-in-hand with the community, delivering personalized pest control services that are tailored to meet the specific needs of each client.
Our Proven Strategies for Termite Treatment in Alpharetta
Comprehensive Inspection and Consultation
Before initiating any termite treatment process, our experts conduct a thorough inspection of your property to ascertain the extent of the infestation. This step is crucial in developing a customized termite control plan that will effectively address the termite problem in your specific location.
Targeted Termite Treatment Methods
At North Fulton Pest Solutions, we employ targeted termite treatment strategies to eradicate termite colonies from your property. Utilizing the latest technology and methods, we ensure that every nook and cranny is addressed, leaving no room for termite resurgence.
Preventive Measures and Ongoing Support
Our termite treatment approach is not just about elimination; it's also about prevention. We provide guidance and support to help you maintain a pest-free environment in the long run. Our team remains at your disposal for any follow-up services or consultations to ensure the success of the treatment plan.
Types of Termites in Alpharetta, GA
Termites, often dubbed the 'silent destroyers', wreak havoc on properties by feeding on wood, wallpaper, and even flooring. In Alpharetta, GA, residents may encounter a few specific types of termites. Understanding these species can help homeowners take effective preventive measures.
1
Eastern Subterranean Termites
Appearance: Creamy white to dark brown/black, approximately 1/8 inch long.
Habitat: These termites live in the soil and require contact with it or some other moisture source to survive. They build "mud tubes" to reach food sources and protect themselves from open air.
Damage: This species is responsible for the majority of termite damage in North America. They can compromise the structural stability of a home within six months of infestation.
2
Formosan Termites
Appearance: Yellowish-brown and about 1/2 inch long as "swarmers" (winged reproductive termites).
Habitat: Often referred to as "super termites", they establish large colonies in the soil, inside trees, or in wooden structures.
Damage: Formosans are aggressive and known for their voracious wood consumption. They can chew through wood, flooring, and wallpaper without any immediate signs of damage.
3
Drywood Termites
Appearance: Light brown, about 3/8 to 1 inch in length.
Habitat: Unlike other termites, drywood species don't need contact with soil moisture. They infest dry wood like furniture, hardwood floors, and deadwood on trees. While this species of termite can be found in Georgia (predominantly in coastal regions), their presence is metro Atlanta is rare.
Damage: They carve out large sections of wood to create their nests, weakening structures over time.
Sentricon® Termite Colony Elimination System with Always Active™ Technology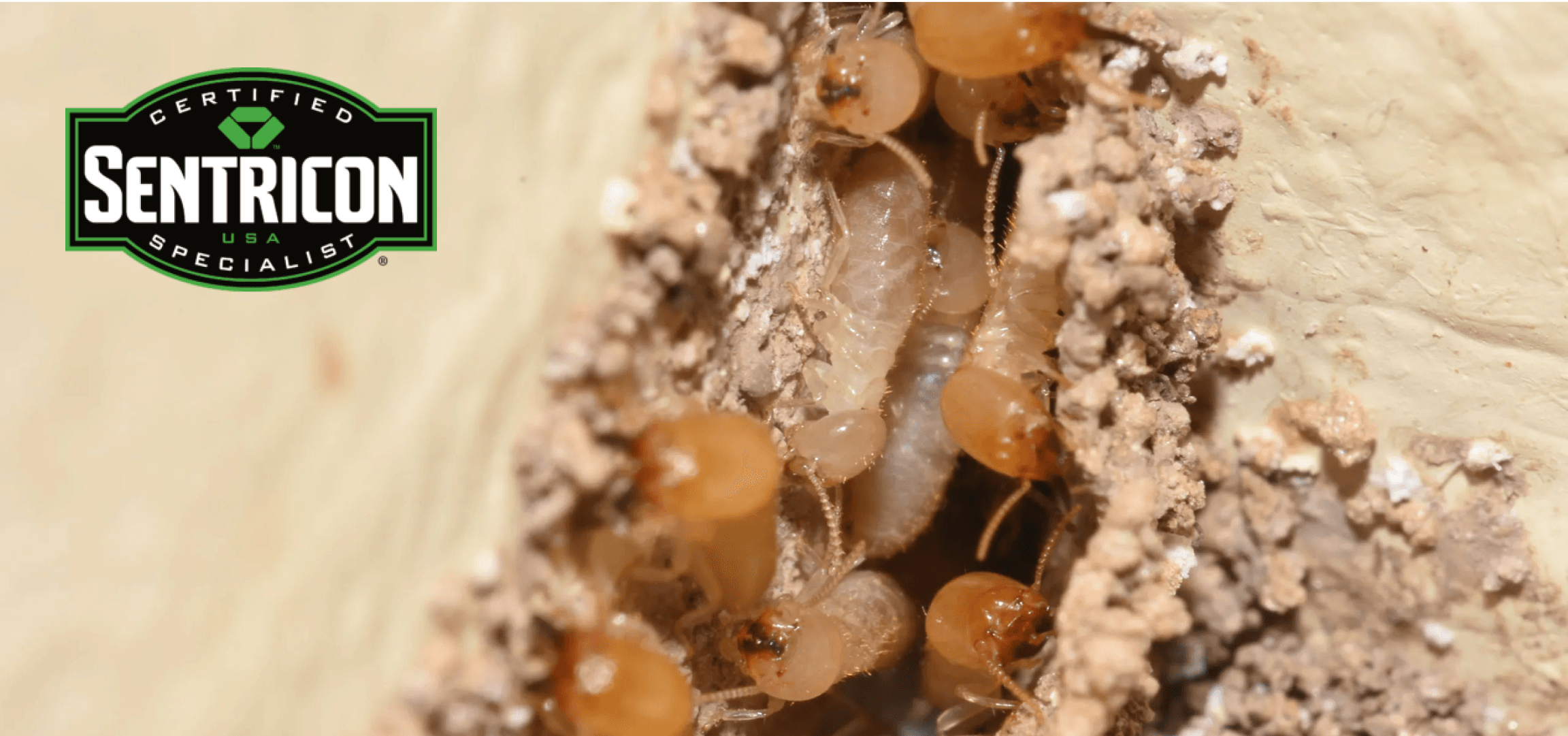 We are your Certified Sentricon Specialist® in Alpharetta. We are proud to offer this environmentally responsible termite solution. Providing you with termite protection 24-hours a day, 7-days a week, Recruit® HD termite bait works to eliminate entire termite colonies!
Sentricon Always Active stations, the only termite baiting stations containing Recruit HD termite bait in every single station from the very first day of installation, are installed roughly 10 feet apart all the way around your home. Termites workers visit the stations and feed on the bait (which they prefer more than wood!). Termite workers also carry the bait back to the colony where they feed other members of the colony. The active ingredient in the bait prevents termites from molting and when termites can't molt, they die ultimately leading to colony elimination!
More than 60 scientific studies have shown the Sentricon System to be highly effective. We refuse to use other inferior termite baiting systems that oftentimes contain no active termite bait at all at the time of installation! Why wait to implement truly proactive, preventative termite protection?
With more than 50 years of experience in the pest and termite control industry, we'll work to correct current termite issues you may be facing and proactively protect your home going forward.
Termidor® Termite Treatments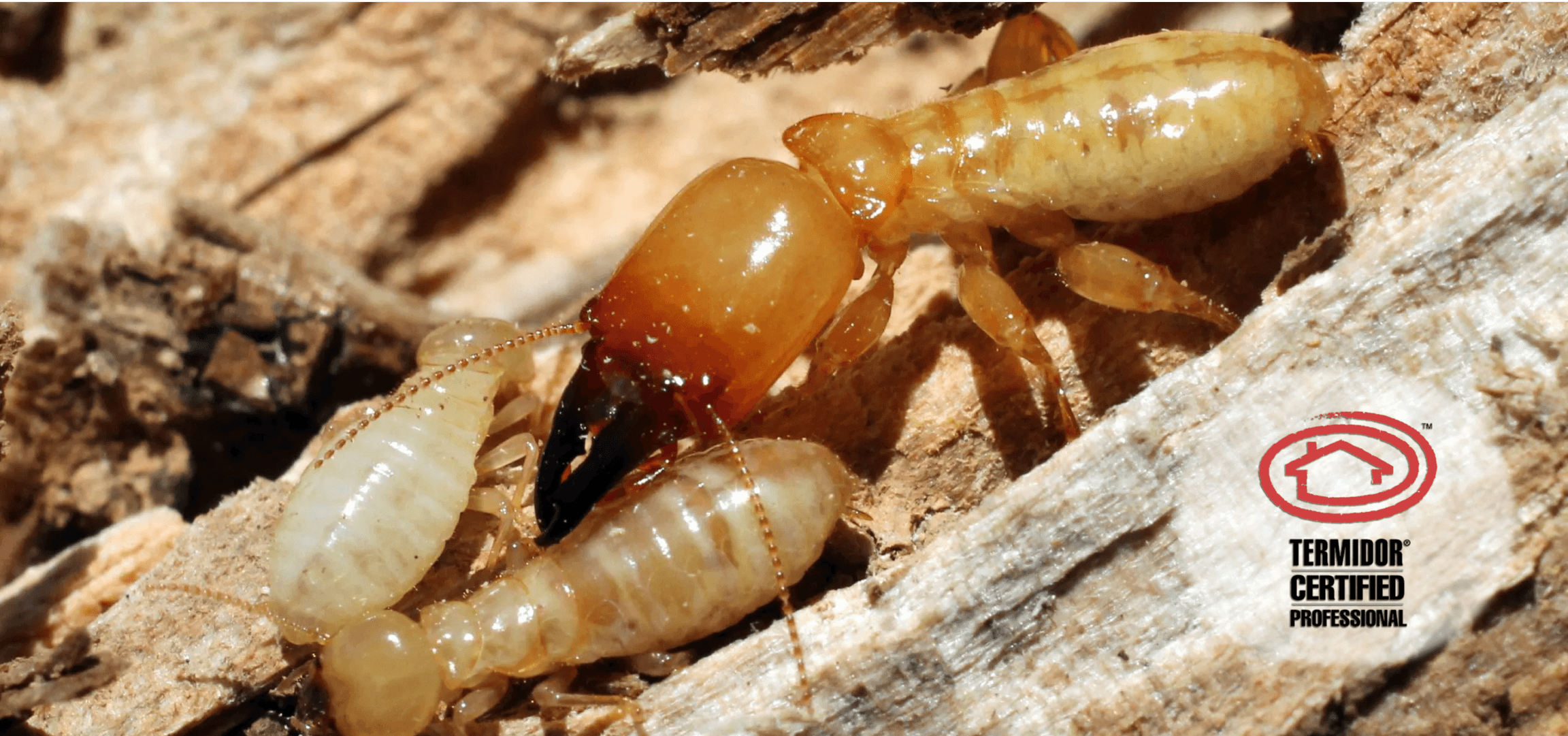 We are proud to be your local Termidor Certified Professional.
A Termidor Certified Professional is a licensed pest control professional who has completed the official Termidor training program, passed a Termidor certification exam, and has been officially certified by BASF (the manufacturer of Termidor) to use and apply Termidor. Only a Termidor Certified Professional can treat your home with Termidor.
Termidor is a liquid termiticide with a unique "transfer effect." This means its termites come into contact with Termidor (it's a non-repellent termiticide) when they enter an area treated with Termidor. These termites then pass or "transfer" Termidor onto other termites when they feed or groom other members of their colony. The Termidor and its unique "transfer effect" has a domino effect which ultimately leads to the demise of the entire termite colony.
If you live in or around Alpharetta, GA, and you're concerned about termites, let us help put your mind at ease. If you suspect that you have a termite infestation or want to proactively protect your home from termites and the costly damage they can cause, call or text us today… 770-475-7419!
We truly appreciate the opportunity to be your termite control company in Alpharetta!