Squirrel Removal Marietta
As many unfortunate homeowners in Marietta know, squirrels can be extremely persistent… to the point where it feels like a full blown war when attempting to get them out of one's home and back in their natural habitat! Most people know squirrels are experts at tearing up gardens, flower beds, and other outdoor areas, but did you know that squirrels will also chew through all kinds of building materials on your home to gain access to areas like your attic?
Like rats and other rodents, squirrels can damage your home by destroying insulation, chewing wires, and leaving droppings inside your house.
When your battle against these pesky squirrels becomes this serious, it's time for you to call in professional reinforcements by contacting our team of educated wildlife removal specialists here at North Fulton Pest Solutions. We have serviced the city of Marietta, Georgia for decades and have provided incredibly effective solutions for business owners and homeowners alike dealing with infestations of squirrels.
How We Can Solve Your Squirrel Problem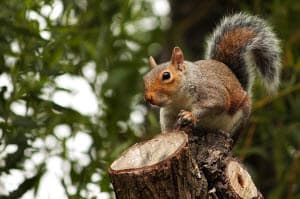 Our team here at North Fulton Pest Solutions is highly experienced in dealing with many kinds of wild animal and pest control issues. We go several steps further than your run-of-the-mill pest control companies. Our experts will carefully examine your property and identify the species of squirrel that you're dealing with and then, using our training and extensive background in the wildlife control industry, will determine the ideal solution for your situation.
Our multi-faceted approach to wildlife control not only addresses the target pest or wildlife currently in your home, but incorporates wildlife exclusion measures to prevent future re-entry! We take care to deal with the problem at the source whenever possible so that your problem isn't a recurring one. We have a wide range of technology and countermeasures at our disposal to solve squirrel or other wildlife issues you're currently battling or may battle in the future!
We understand the difficulties that come with dealing with an infestation of squirrels in your Marietta property, and we believe our superior knowledge and experience in the pest control and wildlife removal industry makes us at North Fulton Pest Solutions an easy choice when it comes to picking the most effective and friendly pest and wildlife control professionals in Georgia.
Our experts will begin by surveying your home or business for the source of the squirrels as well as locating any areas of entry from the outdoors to the inside of your property. Next, we will identify the species of squirrel that we're dealing with. With this information in mind, we will observe the squirrel's behaviors and determine the best course of action to remove them from the structure. The level of expertise our talented technicians carry will give you peace of mind knowing that your issue is in the hands of a well-trained and highly-educated pest and wildlife control expert. After the chaos that comes with an infestation of squirrels is stifled with our wildlife exclusion services, our team will follow up with you to make sure more squirrels don't find their way back into your Marietta home.
Call Or Text For A Free Squirrel Control Estimate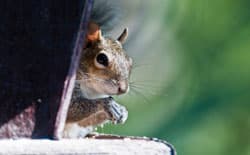 We appreciate you taking the time to learn more about our squirrel removal services offered in and around Marietta, Georgia. We believe that as one of Georgia's leading pest control / wildlife removal service providers we provide some of the most efficient and effective modern solutions in the industry. If you have any questions about our methods of removal, serviceable areas in or around Marietta, or would like to request a free squirrel control estimate, don't hesitate to pick up the phone and give our team a call or text today! We are happy to help and answer any questions you may have. We look forward to restoring peace in your home or business by utilizing our industry specific skills and knowledge in dealing with squirrels. Contact us today at 770-475-7419!