What You Need to Know about Wildlife Control Technology and Your Gutters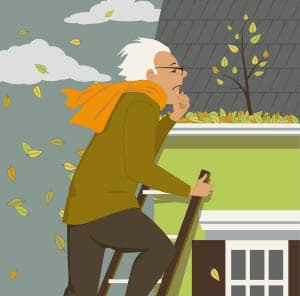 Gutters are probably the last thing that comes to mind when you stop to consider the recent advances in wildlife control technology. Gutters, of course, are located outside the home and serve as a lovely place to live for squirrels and other rodents who love gutter gunk. But, what does that have to do with the inside of your home? If you're like most homeowners, you clean the leaves and debris out of your gutters a couple of times a year and call it a day. So, who cares about any advances in gutter technology?
Each homeowner should care deeply about how gutters fit into your home's wildlife control. Squirrels are not the only critters that like to live in gutters. Birds and rodents often find their way inside enclosed gutters and make themselves at home. Their nesting materials can prevent your gutters from flowing correctly. Plus, your gutters could just be their first stop on their way to finding an even better nesting place inside your home.
Good news: preventing gutter infestation is completely possible with the latest wildlife control technology. North Fulton Pest Solutions is proud to be a dealer and installer of Leafproof® advanced gutter protection systems.
Enclosed Gutter System Keeps Pests Away
Leafproof® is a patented enclosed gutter protection system that prevents virtually any infiltration by anything other than water running off your roof. This gutter protection system has just a one-quarter inch wide opening to let in rain water, and very little else. Consequently, your new Leafproof® gutter system will need to be cleaned out far less often.
Leafproof®'s aluminum construction means that rodents can't chew through your protection system to access their new nesting spot. Plus, Leafproof® won't cave in under heavy snow and ice, like gutter screens do. These benefits make Leafproof® an important part of every homeowner's effective wildlife control technology plan.
This specially-designed gutter system also help keeps pests away from your basement and crawl space. Gutters that channel rain water away from the home's foundation will prevent excess moisture from building up around the home's foundation. As a result, this solution leads to a dry basement and crawl space. Therefore,Leafproof® will deter spiders, rodents, and just about every other pest from making themselves at home. In conclusion, properly drained rooftop rain water will prevent damage to your home's landscaping, siding, and wood trim.
North Fulton Pest Solutions Offers a Range of Wildlife Control Technology
North Fulton Pest Solutions offers a range of wildlife control technology for homeowners all over the Atlanta area. Leafproof® gutter protection systems are just one of many tools we use to ensure wildlife-free home environments for our clients.
You can rely on North Fulton Pest Solutions to provide a fast and reliable solution. Call us at (770) 475-7419 or complete our online form to learn more about Leafproof® and many other types of wildlife control technology.