Termite Treatment Cumming, GA
If you're looking for the best termite treatment Cumming, GA has to offer, North Fulton Pest Solutions has you covered! Our team of highly trained professionals is backed by more than 50 years in the termite control business. Whether you're facing an active termite infestation or are simply looking to prevent future termite infestations, we can help! We provide a thorough and efficient termite control service backed by the knowledge, skills, and expertise that comes with performing countless termite treatments in Cumming and the surrounding areas over our many years in business.
Not only do we offer the highest quality initial termite treatments for your home or business but also ongoing termite protection, ensuring the ultimate peace of mind for years to come. We are locally owned and operated, and each of our technicians works tirelessly to deliver value rich, customized solutions to your termite needs. Contact us today if you think you might have a termite infestation or if you're ready to implement preventative termite protection. We are standing by and ready to put our expertise to work for you. Call or text us today at 770-475-7419 to schedule your free termite control estimate!
The Termite Inspection Process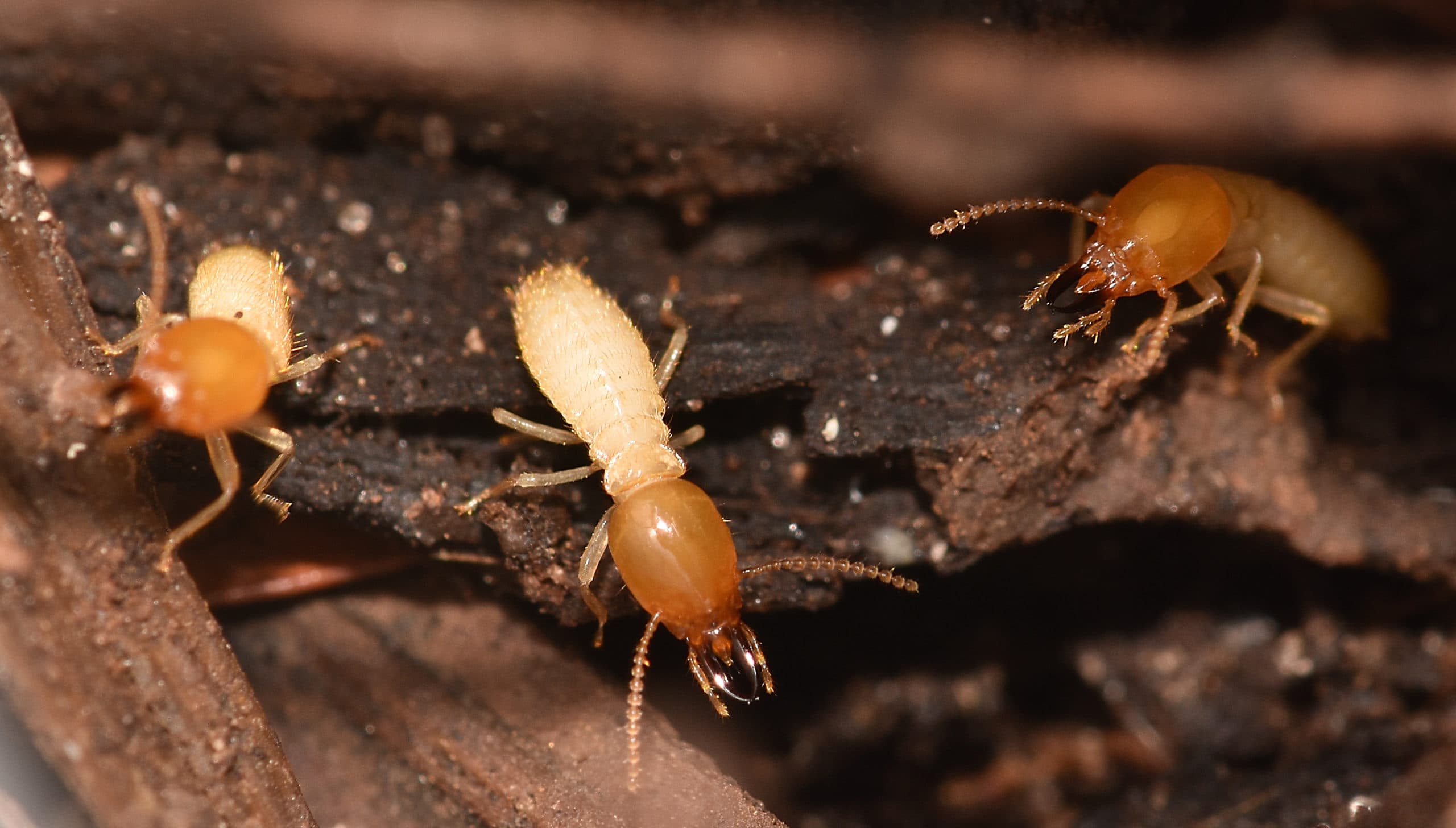 The first step in the termite inspection process is contacting our office where you'll communicate with a real person to find a day and time that's convenient for you to schedule your free termite control estimate with one of our registered inspectors. When our inspector arrives to perform the initial inspection, he or she will visually inspect the accessible areas of your home or business (both on the exterior and interior) and note any visual signs of active termite infestation, previous termite infestation, and conditions that could be conducive to future termite infestation.
Our highly trained inspectors will also prepare a diagram of your property, collect measurements, and note the type of construction of your particular structure. This will ensure they can prepare a customized termite treatment plan specifically with you and your property in mind. This plan will likely incorporate the trusted Sentricon® Termite Colony Elimination System with Always Active™ Technology, traditional liquid treatments with Termidor®, or a combination of the two!
The prescriptive termite treatment plan our inspector designs will not only provide a solution to any active termite infestations, but it will also offer options for ongoing termite protection. As soon as we have prepared a diagram of your property and completed our inspection, we'll share our findings with you and recommend a termite treatment plan based on those findings and our past experience and expertise. This is a great time to ask us to address any concerns or questions that you may have. Of course, our estimate will be provided to you in writing at the conclusion of the inspection process.
We truly appreciate the opportunity to be your termite treatment company in Cumming, GA, and are looking forward to the opportunity to protect what's likely your largest investment from termites and the costly damages they cause!
Offering You Peace of Mind
Here at North Fulton Pest Solutions, we offer peace of mind with regard to your termite protection. We are aware of how much costly damage and stress termites can cause. This is why we are proud to send our highly-trained inspectors and technicians to your business or home.
All of our team members are constantly trained, ensuring they're able to offer you the best termite and pest control services possible. In addition to this, we take great pride in developing customized termite treatments specifically tailored to you and your business or home. When you choose North Fulton Pest Solutions to provide your termite treatment, you can rest easy knowing our experts are on the job!
Contact Us Today For A Free Termite Treatment Estimate
We are your local termite control specialists. If you suspect that you have a termite infestation, we're ready to help! Contact us so that we can deal with the infestation professionally and promptly. We are here to ensure your ultimate peace of mind!
Call or text us now, and let us help protect your home or business from termites and the damages that they cause. Your free termite control estimate is just a call or text away… 770-475-7419!