Termidor® Termite Treatment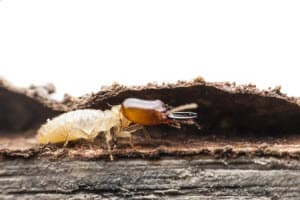 Termites cause billions of dollars' worth of damage each year. Top pest control companies use Termidor® termite treatment to get rid of termites and prevent infestations. Don't your family and home deserve America's number one termite defense product?
What is Termidor®?
Termidor® is a termiticide that provides termite control and termite protection. It is effective on both "native" eastern subterranean termites and the formidable Formosan termites. This liquid termiticide and its unique technology is an advanced nonrepellent that termites cannot not detect. They can't taste, smell, or see it – what's more, they can't avoid it. They come into contact with and ingest the Termidor®, then carry it back to the colony to share, effectively killing not just the termites that eat it, but the entire colony.
In trial after trial, Termidor® has consistently been shown to provide effective termite control and prevention. The U.S. Department of Agriculture – Forest Service has conducted several field trials on Termidor®. These have consistently shown Termidor® termite treatment to be an exceptional termite control product that remains unmatched.
How it Works
Liquid Termidor® termite treatment is applied along the exterior perimeter of the house, specifically along the foundation walls. It is odor free and virtually undetectable. Once applied, it binds to the soil, creating what is known as the "Termidor Zone." Termites cannot detect this termite protection and treatment zone. They cannot avoid it, and since they don't even know it is there they won't try to go around it.
Termites eat Termidor® and material that has been treated with it. Those termites die, but Termidor® kills by contact as well. Termites can't detect it; so, even if they don't ingest the product, they will still come into contact with it as they move about – and they will carry it back to the colony.
All about Termidor® Termite Treatment
It is recommended that properties treated with Termidor® are monitored regularly and undergo follow up inspections on a regular basis. This ensures that the protection and termite control that Termidor® offers are maintained, keeping it effective. Termite monitoring devices may also be employed to ensure that any new termite threats are detected early while the Termidor® Zone remains intact.
At North Fulton Pest Solutions, we use Termidor® for termite prevention and control, and we are so confident that it works, we offer our Termite Control Guarantee. If we provide your home with a full minimum standards termite treatment and you still have termites in 120 days, we will continue treating your home at no charge for the next 30 days. If after that time your initial termite problems are still unresolved, we will refund 100 percent of the cost of your initial treatment – plus $25.
What have you got to lose? Except termites.