Sentricon® Always Active™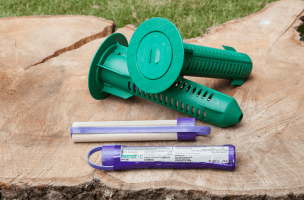 Termites can do thousands of dollars' worth of damage to a home. This affects the appearance of a house, but by the time it can be visually detected, the structural damage is usually devastating. At North Fulton Pest Solutions, we provide termite protection with the Sentricon® Termite Colony Elimination System with Always Active™ Technology.
Why Choose the Sentricon® System?
The Sentricon® System is trusted to protect not only millions of homes but also some of our most revered national monuments, including the White House and Statue of Liberty. It uses Recruit® HD termite bait, a leader in termite protection. In fact, the Sentricon® Termite Colony Elimination System with Always Active™ Technology is the ONLY termite baiting system that features Recruit® HD (active termite bait) in every single station from the date of installation, providing continuous termite protection 24/7 365 days a year! Recruit® HD provides continuous property protection. Termites feed on the bait, then bring it back to share with the colony, leading to complete colony elimination.
We are proud to offer some of the best environmentally responsible pest solutions in the industry. The Sentricon® System is the recipient of the prestigious Presidential Green Chemistry Challenge Award, a national award that recognizes environmentally responsible technical innovation. We place our reputation on Sentricon® Always Active™ so you can have peace of mind while it protects your home.
Get Rid of the Termites and the Colony too
Sentricon® kills termites that are on your property as well as those that haven't made it onto your property yet. One termite colony can house millions of workers and span several properties at once. This means that if one of your neighbors has termites, you could as well – or at the very least your property could be at risk. Sentricon® stops termites before they can invade your property and home; so, you can rest a little easier.
Sentricon® Always Active™: Termite Protection you can Trust
Sentricon® with Always Active™ is less invasive that other termite treatments. There is no need to drill foundations or floors, no need for chemical tank trucks, and no trenching. Your property, landscape, and home can remain intact while still being protected against termites. Installation is clean and simple – you don't even need to be home. What's more, you don't need numerous appointments. The Recruit® HD termite bait that is in the Sentricon® Always Active™ stations is long lasting; so, annual inspections are all you need to keep your termite protection working.
When you need termite protection, you want a company you can trust. At North Fulton Pest Solutions, we are Certified Sentricon® Specialists and we are committed to keeping your home and property pest free. Call today and schedule an appointment for one of our technicians to inspect your property and help you find the best way to protect your home and property against termites and other pests.