Expert Advice on Rodent Control Services for the Average Homeowner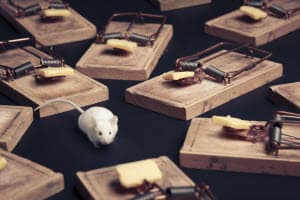 Rodent control services are one of the most common causes for homeowners to call in a pest control company. And rats and mice are everywhere; always looking for a warm and safe place to build a nest. If a food source is close by, it is tempting for mice and rats to move in. Who can blame them for settling into homes that offer shelter and quick access to a pantry full of food?
Here are top tips from the rodent control services professionals to keep your home rodent-free.
Prevention is the first step in successful rodent control.
If there is not a good reason for them to enter your home then they won't bother. This means that your pantry should be set up to keep grains, cereals, and the like inaccessible to pests. Store dry goods in plastic, glass, or metal containers. Keep crumbs and scraps off counters and floors. Use a garbage can with a lid. Empty your garbage and recycling cans often. Promptly repair leaky pipes. Don't allow pet food dishes to sit out all day long.
Carefully inspect your home.
Look for loose-fitting window screens, gaps underneath exterior doors, loose siding, or any other cracks that could allow rodents to enter. Remember, a mouse can squeeze through an opening the diameter of a pencil, so keep your eyes open for very small openings. Replace old weather stripping, and stuff other gaps with steel wool to prevent rodent entry.
Mind those gutters.
Many homeowners and pest control companies don't consider gutters to be a source of pest control problems, but they can be! The LeafProof® gutter protection system is a unique gutter protection system that can aid in home rodent control services. In addition, this patented gutter system helps keep gutters free of leaves and debris. Eliminating leaves and debris will reduce pests like ants and roaches that often nest in the debris found clogging the gutters. And, when professional wildlife control technicians do the installing, LeafProof® can help prevent rodents and other wildlife from gaining entry into an attic by sealing off entry points, a process commonly we refer to as wildlife exclusion.
Call A Professional For Rodent Control Services
If you do find evidence of rodents in your home, it is best to call in a professional. Rodent control products available at your hardware store are often ineffective and improperly used. Furthermore, they can make it harder for a professional company to eradicate your pests later. In addition, it can be difficult to completely clean up rodent nests and droppings without the proper equipment.
Over the past four decades, North Fulton Pest Solutions has learned a thing or two about rodent control. And, as a member of the National Pest Management Association and the Georgia Pest Control Association, we stay up-to-date on the latest and greatest products, equipment, and methods to provide effective pest control for our customers.
We take rodent control services seriously. We know that when you find mouse droppings in your kitchen, you call us because you want the rodents out immediately. Furthermore, our technicians are trained to provide the most thorough rodent control services available in the Atlanta area.
Most of all, we are committed to total customer satisfaction. Ask about our lifetime renewable guarantee on our full wildlife exclusion services. To contact North Fulton Pest Solutions about your rodent control services needs, complete our online contact form.