In the unfortunate event that a population of rats decides that your Duluth, Georgia property is fit for long-term sustainability, you need to act fast to prevent the destruction of your property as well as the spread of harmful bacteria and disease. When it comes to issues regarding the well-being of your home or business and your health and the health of people around you, a sense of urgency should prevail! The best way to get proper and effective solutions for your rat infestation problem is by turning to the professionals at North Fulton Pest Solutions.
Our team is here to help no matter the size or type of infestation. Our highly qualified and educated experts are eager to put their skills and knowledge to great use for the wonderful residential and commercial communities that make up Duluth, Georgia.
Are Rats A Problem At Your Home?

An infestation of rats can be detrimental not only to your physical and mental health but also to the overall well-being of your home or business. Rats such as the Norway rat and the roof rat are known to invade properties all over Duluth without hesitation. These troublesome pests will happily chew on electrical wires and cables and through wood and drywall to make an easy entry point to your kitchen, lounge, attic, or other areas of your home or business where they'll enjoy shelter from the elements and maybe a free meal or two!
In addition to the costly physical damage rats can cause to the structure of your property, rats are also known to carry and leave behind bacteria that breed diseases such as Hantavirus Pulmonary Syndrome, Leptospirosis, Rat-bite Fever, Salmonellosis, and more.
It is incredibly important that as soon as a rat problem is identified within your property that it is properly addressed by professionals as soon as possible to avoid the negative effects that come with their occupancy. This is where the rat removal experts at North Fulton Pest Solutions come in to help.
About Our Rat Removal Services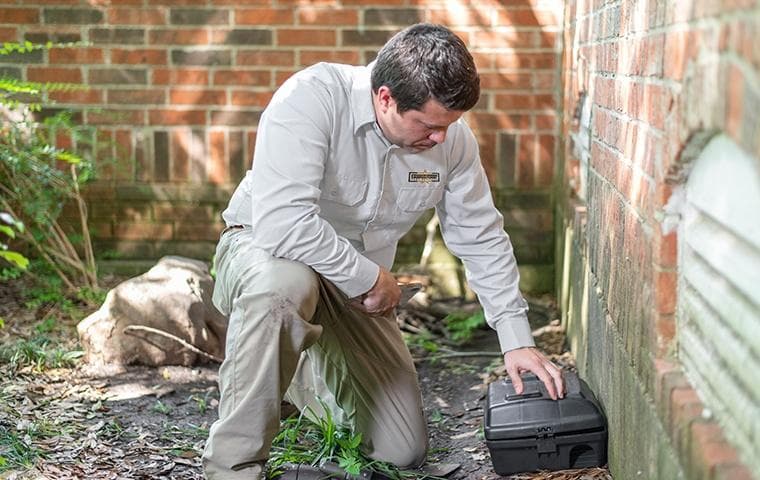 With over 50 years of protecting and providing meaningful pest control solutions to homes and businesses in and around Duluth, Georgia, North Fulton Pest Solutions specializes in rat removal services. Our team is dedicated to providing nothing less than the best service and customer experience we can.
Our strong reputation among Georgia's wonderful cities has been attributed to our unparalleled level of high-quality pest control services in addition to our wealth of knowledge and skill in the industry. The sharp technicians that uphold our name are committed to consistently providing quality work and customer service.
Our top-rated services will ensure that your rat problem will be dealt with by professionals in a timely manner. We care about our clients and value their health and well-being.
When it comes to removing rats from your Duluth property, North Fulton Pest Solutions is your best bet for effective long-term control. We provide professional treatments and execute tried and true techniques to deal with these issues in a responsible manner. Our team will thoroughly inspect your property to locate the source of the infestation as well as any entrance points into your home or business and design a customized rodent control program to responsibly help control the rats that have raided your property.
Call Us Today For A Free Estimate
Our team is dedicated to achieving your satisfaction and administering solutions for any kind of pest issue that you're dealing with. Enough wasting your time and money with low-quality store bought remedies; it's time to let the professionals take care of the infestation before it gets worse.
Don't hesitate to get the pest control professionals at North Fulton Pest Solutions on the job right away if you believe you may have a rat infestation on your Duluth property! Our tried and true rat removal services will allow for the restoration of peace in your home or business. Please feel free to contact our friendly team today for a free estimate. We appreciate your time and look forward to becoming your go-to pest control experts whenever an issue arises.