Combating Winter Pest Problems with Professional Wildlife Control Services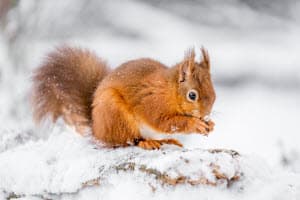 Winter weather can drive certain wildlife like raccoons, squirrels, skunks, bats, and opossums to seek out your home for shelter. They can nest in your basement, attic, under eaves, in crawlspaces, and in walls. These are wild animals and their extraction from your home is best left to a professional wildlife control services firm.
Problems caused by wildlife in or around your home
Nuisance wildlife is more than just an annoyance; they can cause some serious problems in and around your home. Some of the things that can happen when nuisance wildlife invades your space include:
Unfriendly or even dangerous encounters with humans (especially children) and pets.
Noises like bumping and scratching in the walls and attic, especially at night.
Damage to insulation in the walls.
Chewed electrical wiring.
Urine and droppings in the basement, attic, or other areas of the home.
The spread of disease and illness to humans and pets.
Nesting sites in the attic, basement, crawlspace, and under the eaves of the house.
Introducing ticks, fleas, and mites to your pets and home.
Why wildlife seeks out your space
All pests, including nuisance wildlife, move into an area, such as your home, seeking three things: harborage, food, and water. With this in mind, there are some things that you can do to prevent wildlife from coming into your home. Do not leave food out in your home; keep a lid on your outside garbage can, and be careful of how you store food items in your basement or cellar. Do not allow water to stand in or around your home in areas like gutters, children's toys, and pet dishes.
Things that could be used as nesting material like boxes, clothing, and certain types of holiday decorations should be secured in plastic crates with sealed lids. Inspect your home, looking for access points that animals can use to get into your home, then seal or block them. It is a good idea to hire a professional wildlife control services firm to do a complete inspection and provide recommendations for protecting your home and family from nuisance wildlife.
How professional wildlife control services can help you
The wildlife control experts who specialize in professional wildlife control services can come into your home as assess any vulnerability that may be present. The technician can advise you on how to seal access points and ways to make your home less hospitable to nuisance wildlife.
North Fulton Pest Solutions can help you get rid of nuisance wildlife in and around your home, as well as prevent them from coming in. Call our office or fill out our convenient contact form and one of our qualified, friendly staff members will call to set up an appointment. We have many customer friendly options including free estimates and online pay. When you want worry free pest control that is environmentally responsible, call on us.