How to Not Waste Time with Ineffective Mice Pest Control Products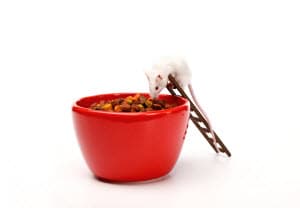 There are a lot of products out there claiming to provide effective mouse eradication. However many of those products, especially the ones available to the general public, are just a waste of time and money.
Any pest control expert will tell you that the best method of eradicating mice is by preventing them from entering your home in the first place. You can avoid being taken by ineffective pest control methods by preventing the need for them altogether.
Mice like to live near their food source – so don't make your food their food. Here's how to do it:
Store your food in the refrigerator or freezer, or in hard containers in your pantry. Think glass jars or hard plastic bins. Plastic bags and boxes are very easy for mice to chew through.
Kick your housekeeping up a notch. Wipe down counters and sweep floors regularly. Don't forget to get the bits that fall between the stove and counter, or under the refrigerator. Maybe you can't see them, but mice can easily get down there for a feast.
Prevent dirty dishes from stacking up too high in the sink. Promptly rinse food scraps down the disposal, and run it every day.
Next, you need to find and seal any possible entry points that mice could use to enter your home.
The easiest ways for mice to enter the home is usually squeezing through the gap between a door and the floor. If the weather seal at the bottom of your door is flimsy, broken, or missing, be sure to replace it.
Inspect your windows and screens. If you see any gaps, have them fixed. Replace old weather stripping if needed. As an added bonus, this will increase your home's energy efficiency and save money on your heating and cooling bills.
Check for any other holes, gaps, or crevices where a mouse could enter the home. Use steel wool to pack those gaps closed to prevent entry.
Trim shrubs and trees back from your home. Even a tiny branch reaching to a windowsill can make the perfect bridge from outside to inside.
North Fulton Pest Solutions doesn't want you to waste your hard-earned dollars on ineffective mice pest control products. We also don't want you to suffer through a pest control problem, because nobody appreciates a mouse in the house.
We strongly encourage you to seek our professional services at the first sign of mice. Believe it or not, hiring a professional instead of a cheap hardware store remedy could save you money in the long run. Request a free mice pest control estimate from one of the most reliable pest control companies in Atlanta.