The Top 3 Reasons to Invest in Leafproof® Gutter Protection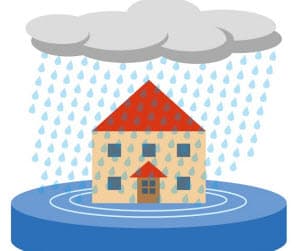 If you are in the market to perform some home improvements, installing Leafproof Gutter Protection should be one of your top priorities. This system of gutter covers easily installs onto your existing gutters. Installing Leafproof gutter does not require drilling any extra screws into your roof. The cover panels easily slide under your first row of shingles and fit on top of your existing gutters. Rainwater and melting ice will flow easily through your gutters and downspouts when the Leafproof is protecting your gutters.
Here are the three top reasons why you should invest in Leafproof gutter protection:
Leafproof gutter protection eliminates your seasonal gutter cleaning chores. Your gutters will stay free of leaves and other debris year-round. This also means you will no longer need to climb ladders and run the risk of an injury due to falling.
Gutters with Leafproof installed are enclosed and protected from debris. Leaves, twigs, and other material can no longer clog up your gutters. Clean gutters mean rainwater can flow freely away from your roof.
You may not know small animals, birds, and insects can nest inside leaf-stuffed gutters. This will no longer be a concern once you install the Leafproof system because it will exclude leaves and larger nuisance animals from your gutters when installed by a professional.
You know the old saying "an ounce of prevention is worth a pound of cure?" Well it's true for pest control too. Leafproof gutter protection prevents the development of prime nesting space for insects and other pests. If your gutters are no longer packed with leaves, pests will look elsewhere for a place to call home. You will be impressed by how affordable and easy this pest exclusion tactic really is. Who knew that upgrading your gutter protection could serve as a form of pest prevention?
Why Choose the Leakproof Gutter Protection System?
North Fulton Pest Solutions is a proud dealer and installer of Leafproof patented gutter protection systems. We urge our Atlanta-area clients to invest in this product for the reasons above and so much more. It reduces your fall chores and helps keep pests away. Leafproof gutter protection also reduces icicles and ice dam formation on the roof all winter long. They are also an incredibly easy way to increase your home's value. In addition, they provide a great selling point to present to potential buyers. When the time comes to put your house on the market, you will be glad you have Leafproof gutter protection.
It's not too late to install your Leafproof system. One of our trained teams of installers can come to your home, clean out your existing gutters, and quickly install the Leafproof panels. We slide them in right under the first row of shingles, which means there are no screws driven into your roof! The installation process is quick and simple.
If you'd like to know more about the Leafproof gutter protection system, visit our gutter protection page today.