Is House Centipede Pest Control Too Much to Ask For?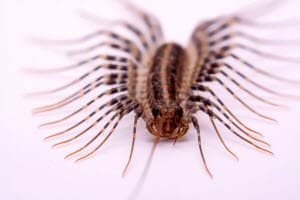 No one wants to think about house centipede pest control, but sometimes the problem is staring you right in the face. What do you do when these creepy crawlies start coming out of the cracks? You could struggle with different pest products and home remedies, wasting money and time in the process; or, you could hire the professional pest control specialists at North Fulton Pest Solutions to remove centipedes from your home quickly and efficiently. Our methods deliver permanent fixes for some of life's most uncomfortable problems, and they'll often help you save money.
Why You Have a House Centipede Pest Control Problem
When outdoor conditions become too tough to handle, nearly any type of insect will try to find its way inside. If you have many of these creepy crawlies in your home, however, there's something attracting their attention. Our professionally trained pest control specialists will identify the root of the problem so it can be addressed on your property.
Common centipede attractants include:
Ants
Termites
Cockroaches
Spiders
Bedbugs
Silverfish
Earwigs
Creepy crawlies of all kinds
Step up your home maintenance, clear up any leaky pipes or moisture issues, switch to lights that won't attract moths and flies to your property, and remove any organic matter away from the foundation of your house. If you've done all that and still see them regularly, the situation warrants a closer look performed by a trained pest control provider.
What Centipedes Can Do to You
If you suffer from anaphylactic allergies, centipedes pose you real harm. Their bites will trigger the same kinds of reactions of bee stings. Fortunately, bites are uncommon, but there's no reason you have to deal with the threat. Call North Fulton Pest Solutions at the first sign there's a house centipede problem in your home. We'll quickly show up to resolve it, as well as work to prevent future instances.
Other than the rare bite, centipedes generally do no more than scare people. Their lightning fast legs and unsettling looks can be frightening, and frankly, so is the average lifespan of one of these creatures – some species live up to seven years! That's a long time to worry about the occasional sighting or potential bite. The peace of mind you'll enjoy will be more than worth the expense of a professional removal.
How to Get Rid of Centipedes for Good
Prevention is always the best cure, but if you have these unsettling creatures in your home, there are a few methods you can use to get rid of them. First, you can manually do the job yourself by stepping on them, swatting them or crushing them with the closest random object at hand. Once they're dead, you can responsibly sweep them up and throw them out.
Hiring a professional yields more advanced methods for centipede management. The follow-up is really where the professionals earn their wages. As centipedes have such thin bodies, they can manage to fit through many different cracks. A trained technician can find the simplest, most cost-effective ways to block or treat those entrances.
You can't always keep bugs out of the house, but house centipede pest control isn't too much to ask. With the help of trained professionals, you'll have the problem solved in no time. Call North Fulton Pest Solutions at 770-475-7419 for your free quote.