Controlling and Eliminating Fleas in your Home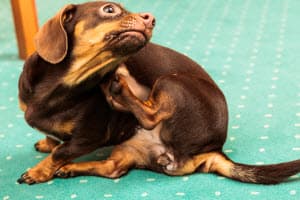 Fleas can take over a home in a very short amount of time, and getting rid of them can be not only frustrating, but also rather costly. Fleas can cause medical and dermatological conditions in both humans and pets, including the itching and irritation caused by their bite. Eliminating fleas in your home is not only a comfort issue, it is a health issue. However, it is sometimes easier said than done.
DIY Eliminating Fleas in your Home
Often successful flea control involves treating the home and yard. If you have pets, they will have to be treated as well. If you don't have pets you should look around your home and property, particularly in the crawlspace or basement. Sometimes wildlife will seek shelter in or around a house, especially in cold weather, and often they are infested with fleas. If you find animals or evidence of wild animals around your home, call a professional who is qualified in nuisance wildlife control to remove the animals from the area.
When eliminating fleas in your home, begin by ensuring that all areas in your home are accessible so you can effectively treat them. Pick up everything off of the floors, including in closets and under beds. Remove your pet's water and food dishes, and cover aquariums. You should also disconnect the aerators. Remove all pet bedding, and either wash it thoroughly or destroy it.
Vacuum the area thoroughly. Vacuuming does several things in helping to eliminate the flea population in a home:
It removes most of the eggs, flea pupae, and larvae
It stimulates fleas that are still developing in cocoons to emerge sooner
It raises the nap of the carpet making it easier for the product to reach the fleas
Make sure that you vacuum everywhere including under furniture, along the wall and room edges, where pets sleep, under cushions, and under rugs. Once you have vacuumed everywhere, place the vacuum bag inside of a garbage bag; seal it, and throw it away in an outside trash receptacle.
When to call a Professional
Sometimes, despite your best efforts, you cannot get on top of your flea problem. If you are having trouble eliminating fleas in your home, don't be afraid to call a professional. If you have tried the steps above and still see fleas or are still being bitten, then it is time to call a pest control service.
At North Fulton Pest Solutions, we can help you eliminate fleas and other pests in your home. Contact us for a free estimate or to make an appointment for one of our experienced, knowledgeable technicians to service your home and property. You don't have to live with fleas in your home; call us today, and see what a difference our environmentally responsible pest control solutions can make for your home and family.