House Turning to Mulch? What You Need to Know about Advanced Termite Control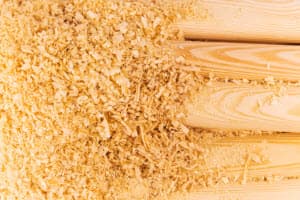 Advanced termite control takes care of active termite infestations while preventing new infestations from moving in. For homes in the Atlanta area, this service is essential to getting and staying termite-free. Why? Because Georgia has more than its fair share of the little buggers. They love to eat the same things we rely on for shelter; so, it's imperative that homeowners take the appropriate measures to properly protect their home. Thankfully, North Fulton Pest Solutions can help.
Look at the differences you'll see between basic and advanced termite control:
Basic services include cursory or no inspections for active colonies.
When it comes to quality termite control, it's crucial that an experienced professional inspect your home for signs of termite infestation. Many homeowners that take the DIY approach don't have training to detect common signs of termite infestations. And unfortunately, many "professional" termite control companies don't perform regular or initial inspections. Every home is different, and a proper quality initial inspection followed by regular inspections at pre-determined intervals is essential to any worthwhile termite protection program.
Advanced inspections occur in hard-to-reach areas of your home.
Our termite specialists and technicians will inspect the harder to reach areas of your home both inside out. An exterior inspection is better than no inspection at all. However, an interior inspection is a must to correctly identify any signs termite activity. A quality inspection will include a visual inspection of the exterior foundation of your home as well as interior areas like the basement or crawlspace, attic, and plumbing penetrations. The trained eye of a termite professional will be looking for tell-tale signs of termite activity. Termite activity will look like mud shelter tubes, discarded termite wings, mud "sandwiched" between exposed framing, and paint that appears bubbled or blistered.
When needed, specialty "snake" cameras can be used to help determine how extensive a termite infestation is. A small pilot hole is drilled into the construction void to be inspected. Then a camera on a cable is inserted to gain a unique perspective inside the construction voids. Be cautious of companies that rely on infrared technology cameras. These devices detect changes in heat, but not necessarily the presence of termites! We can also help refer a quality remodeling service if flooring, framework, or other building materials need replacing because of termite damage.
Basic termite "treatments" include perimeter applications with cheap products, inferior bait systems, or no treatments at all!
"Basic" or inferior termite treatments include treatments performed with cheap products that break down very quickly and have very little residual effect, leaving your home unprotected soon after the initial treatment. Other inferior termite treatment options include termite "baiting" systems that include no active termite bait at the time of installation. And believe it or not, some termite "treatments" include no protective treatment at all! Customers simply pay for inspections and receive no preventative treatment to protect the structure from costly termite damages!
It doesn't take much digging to read the horror stories of homeowners like Dr. Neil and Mary Beth Meyers or Alvin Jackson who lost their homes to termite infestation despite ongoing contracts with major pest control providers. It's proof that in this termite-friendly region, basic services don't always do enough.
Advanced treatments include high quality products and expertise knowledge from highly trained professionals.
The North Fulton Pest Solutions approach to termite protection utilizes a wide range of techniques, specialty equipment, and the industry's best products paired with years of experience and expertise. Whether you choose a traditional liquid termite treatment, the installation of a termite baiting system, or a combination of both, you can rest assured that North Fulton Pest Solutions provides the very best when it comes to protecting your home from termites and their costly damage.
We utilize both the Sentricon® Termite Colony Elimination System with Always Active technology, proven in dozens of studies to eliminate the entire termite colony, with the #1 termiticide on the market, Termidor®. Together, they deliver a one-two punch to any termites living on or around your property.
Click this link to take advantage of the advanced termite control available through North Fulton Pest Solutions. Visit online or call 770-475-7419 and get a free quote for services today.